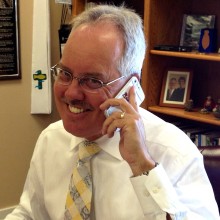 Greetings friends in service to our God!
The work of Christ's Church is reflective of the covenant we have with our God and between all of God's creation. Interestingly and amazingly, all of creation belongs to God and God is in charge. God surely does not need us to play any role in restoring creation, so the fact that God invites and allows us to participate is truly awesome indeed. Our job is simply to respond and find what God needs from us in our own context.
"In life and in death we belong to God" says the Brief Statement of Faith. When we say we belong to God, that binds us to each other in love and faith, and in the church. If "we" belong to God, then that means that God holds us all together as his children, his sheep, his servants whom Christ called upon to serve his sheep and tend his goats. The Westminster Confession of Faith has a section on Good Works that I have been reading through and it is fascinating in its call on our lives to exhibit "the fruits and evidences of a true and lively faith: and by [good works] believers manifest their thankfulness, strengthen their assurance, edify their brethren, adorn the profession of the gospel, stop the mouths of the adversaries, and glorify God."
My friends, that is stewardship. Stewardship of all that belongs to God. When I think about the foods that I buy, the clothes that I wear, the places that I visit, the people that I meet, I honestly do think of them all in terms of being a good steward. Oh sure, you have heard me say that Cindy and I tithe the first fruits of our labor, and give beyond that as well, but what I also think blesses me is the thought that sitting here at my desk writing this letter to you is also stewardship of a blessing God shares with me. Sharing meals with four of our pastors in the last week, along with many church members at a men's breakfast and a pot luck lunch, is stewardship of my time, my energy, and God's grace. I am grateful to God that I am called to be that kind of steward. 
And that is the key to me to good stewardship. Gratitude. I am grateful to God for all that God provides, and I want to respond, which generates even more gratitude as I encounter the people of God in that response. I want to put my tithe in the offering plate, but more than that I want to put my life in God's hands and trust that God will use me as a steward. God does not need me in order to restore creation, but I do need to participate in that work. The great good news is that God allows us, invites us, expects and encourages us to be good stewards of all that is God's. Thanks be to God.