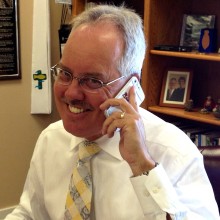 Greetings neighbors and friends in the Presbytery of St. Augustine, in whose company Cindy and I are both privileged to labor,
As I write this, we are just back from St. Simons Island and Brunswick, where we laid Cindy's mother Suwann to rest this weekend. We are both extremely grateful for the love and care, and all of the heartfelt expressions, we have received from around the presbytery. The Palatka church, of course, has held Cindy up with their prayers but it is so good to be in a community of faith like this presbytery as well. From the entire Missildine family, please accept our deep thanks for your prayers and support.
And speaking of family, we had dinner last week with your GA commissioners and kind of unwound ourselves after our time together in Detroit. It was good to see everyone who had served you, served Christ's Church and served our God so faithfully and well. Stories of their time in Detroit are kind of like telling tales about what I did at summer camp (you just kind of had to be there), but the experience was powerful for each of them and I hope we will remember that as we greet them in the coming months. Recounting their returns to home and family and church, each had unique receptions and positive feedback from their friends, even if their church family did not fully understand what they had been doing.
I asked two questions of them at dinner.  First, I wanted to know if they want to ever go back, and the overwhelming answer was yes.  And second, I asked them about the highlight of the week for them.  We got one answer about the connections that were refreshed among colleagues from previous PCUSA experiences, and another about the committee that fit perfectly to the strong emphasis of that person's entire ministry.  Each of the answers reflected what it truly means to be Presbyterian, I believe, and what it means to serve the larger church.
 Two of the commissioners answers reflected an equally important aspect of any General Assembly, and I hope that their experience can be exported to the entire presbytery.  The highlight of the week for them was worship.  We opened with worship, with bagpipes and combined choirs and handbells (the handbell choir was from Central Presbyterian Church in Atlanta, the church where both Cindy and our daughter Bethany were sent off to seminary), orchestra and wonderful liturgy and preaching. Each day's morning session ended with worship and good preaching. We were surrounded by the Holy Spirit through that worship but also in the work that we did for the church. I was so pleased that worship was so meaningful to our commissioners because if we are not doing our work as the church in a spirit of worship, in a posture of glorifying God, then our work is in vain.
The challenge to the rest of you is to pray about whether God is calling you to serve this presbytery at the next General Assembly in 2016 (Portland, OR), and to seek the will of the Holy Spirit before you answer that question. Our process here in St. Augustine is an application process, I pray we are inundated with applications next time. And to the folks who serve you as your current GA commissioners (yes, their service does not end until the next assembly), I say again…Thank you dear friends.
Peace and grace
Steve