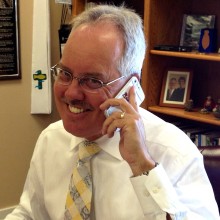 Greetings friends in the faith,
I have had some time this week to reflect on where we are as a presbytery, where we have been, where we are going and what God might be up to in our midst. We are at the beginning of an important time in the life of the Presbytery of St. Augustine in a lot of ways, and we are at the end of many eras that we can look back upon with both humility and pride. Some of the things we have done for a long time, and done well, will continue to sustain us into the future.
Montgomery Presbyterian Camp and Conference Center continues to enjoy widespread support in our presbytery but the way that we manage this jewel in our crown has changed and is changing. We must grow into that change and embrace what God has in store for us all there, and then support those changes monetarily and emotionally. I grew up at Camp Montgomery and it is a completely different place today than what I remember as a child, and that is very good. It will be a different place than the children of today remember in the future, and that is good too. The Board of Montgomery and the Council of your presbytery welcome your participation with all of your sisters and brothers to make sure we keep this facility and its ministries close to our hearts.
Our Mutual Mission in Jamaica continues to flourish this summer (as I write this, our young folks and the young people from Jamaica are engaged in our annual summer mission exchange). We will soon have a mobile dental lab onsite in Jamaica and mission trips to that island nation continue to do important work for God's creation with our friends down there. If you are not already a part of this ministry, it is open to all comers and seeks individuals to come alongside in the hands on operation that is our Mutual Mission.
We continue to fulfill our core values to the churches and ministers of the Presbytery of St. Augustine, "to serve Jesus Christ by strengthening our congregations in their ministries and enabling us to accomplish together what none of us could do alone." I have met with several sessions seeking new pastoral leadership, more than a couple of pastor nominating committees and many Teaching Elders in these summer months, and the work of Christ's Church flourishes in surprising and wonderful places. I worshipped with 25 faithful souls at Highlands in Gainesville on Sunday and was filled with the spirit of their amazing attitude. I worshipped with the Southeast Region of the National Black Presbyterian Caucus on Friday night and was filled for two plus hours with an overwhelming sense of joy in the Woodlawn Church. We welcomed two new teaching elders into our presbytery last Thursday, Joe and Holly Medearis, and welcomed them home. Joe and Holly were candidates from Hodges Boulevard and the Presbytery of St. Augustine, and many of us know them well. Throughout the summer, our congregations have been active in wonderful programs for children and families like Vacation Bible School. Our work continues in old and new ways.
We are in a season of change in the Presbytery of St. Augustine and you will hear more about that in the coming months. But in the midst of all that is changing, we have our core to keep us centered on the work that God sets before us, and we have a strong core. In this summer time, it is well for us to think on how each of us might walk alongside sisters and brothers in the faith, both past and present, to do this work. We are seeking faithful women and men, ruling and teaching elders, to serve on committees of this presbytery (Montgomery, Mutual Mission, Examinations, et al) and trust that God will lead you to volunteer. And we need our sessions to begin the conversations about how we will support each other financially in the coming year in new and challenging and invigorating times. It is Stewardship time, my friends. A time to reconsider and recommit ourselves to each other and to our God.
Peace and grace
Steve