Meet Diane Wilson, 2019 Moderator!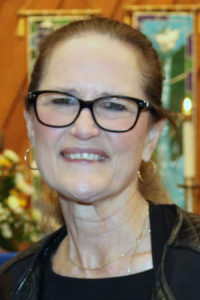 As the oldest of five children, born and raised in Tracy, California, a small farming town in the heart of the San Joaquin Valley, Teaching Elder Diane Wilson had reason to believe that she was going to go to college, get married, sing in the church choir, teach Sunday School, and live there for the rest of her life. Little could she have predicted how God would open mighty doors at turning points in her life, sending her to seminary at the urging of her pastor and on to serve the church and the military as a Navy Chaplain. As she explains, "Only God above could have been orchestrating all things, because my God was too small, and I could never have imagined what was ahead of me."
Diane Wilson is a retired Navy Chaplain who served God and country for twenty years on land and at sea; at home and overseas in Guantanamo Bay, Cuba, Guam, and Rota, Spain; at military commands; and in military chapels. Still, her first love is the church where, after working as a Youth Director, attending San Francisco State University, and receiving her Bachelor of Science in Social Work, she entered seminary. As a seminary student, she worked at two Presbyterian churches in the Bay Area of San Francisco and had a once-in-a-lifetime opportunity to go overseas to Troon, Ayrshire, Scotland, where she served for a year in the Church of Scotland as a Seminary Intern. Diane was ordained in 1984, serving as an Assistant Pastor of the First Presbyterian Church in Stockton, California, for eight years before serving as a Navy chaplain.
Upon retiring from the Navy in 2011, Teaching Elder Diane Wilson was received into membership of the Presbytery of St Augustine in December 2013, serving as Parish Associate and then Interim Pastor at St. Giles Presbyterian Church until June 2018. She is currently serving as the Stated Supply Pastor at the First Presbyterian Church of Starke.
Diane's heart and passion are in drama and music ministry, looking for creative ways to bring men, women, children, and youth into ministry and a closer relationship with our Lord Jesus Christ. She has seen what God can do through this form of ministry, both for our military personnel and their families and in the church. She is also a leader with Weight Watchers, which she has found to be another form of ministry to people of all walks of life.
Last, but not least, Diane has been married for the last 25 years to retired Navy CAPT Blane M. Wilson, who served 31 years on active duty as a Nurse Corps Officer and as a Navy Corpsmen in Vietnam. They met and married while stationed at Camp Lejeune, North Carolina. They have no children but have two cats, Mia and Abby.
The Presbytery of St Augustine gives thanks for Diane's gifts and willingness to serve.