Meet Terry Patterson
By: Paige Todd, Montgomery Summer Camp Staff (Photography and Videography) and Member of St. Giles Presbyterian Church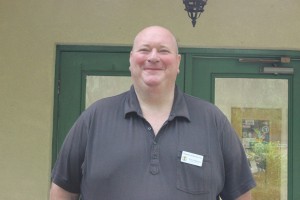 Sitting upon the border of Starke and Keystone Heights is a humble camp with a big mission.  As you walk into the welcome room at Montgomery Presbyterian Center, their mission is stated boldly upon the wall: "Welcoming all people to experience Christ and creation in ways that deepen faith and strengthen relationships."  During the summer months when Montgomery's Summer Camp is in full swing, this mission statement is apparent in every activity that the campers engage in. From Bible study, to rock wall climbing, to tubing on Lake Crystal, campers get to experience the beautiful nature that makes up Montgomery's camp ground and make lasting relationships that are based on God. Every summer, children of all ages flock to Camp Montgomery only to leave with a deepened sense of their faith.
The newest member of the Montgomery family is the Executive Director, Terry Patterson. Terry came to Montgomery Presbyterian Center from Virginia where he managed another summer camp.  His impressive 25 years of experience in the camping field makes him a very qualified Executive Director. "I feel that God was preparing me throughout my career to be at Montgomery," says Terry.  Terry's experience in managing facilities, fundraising, working with the American Camp Association, and exercising preventative maintenance techniques will surely enhance the present state and future of Camp Montgomery. Terry hopes to add a fresh perspective to Montgomery Presbyterian Center and "bring a renewed sense of Montgomery's impact on people's lives."
 This summer, Terry is content to "sit back, listen, and learn" the ropes of Montgomery, but he has big plans stirring in his mind already. These plans include developing a strategy for increasing the number of groups that come to Montgomery outside of the summer months.  For while Camp Montgomery puts a large focus on the children that camp over the summer, Montgomery also hosts a variety of other groups throughout the year. These groups include families for reunion events, professional groups for conferences, older individuals for retreats, and social groups for short getaways. Increasing opportunities and flexibility for groups like these is essential to the future of Montgomery.
 And undoubtedly, the future is bright for Montgomery Presbyterian Center. As they finish their fifth week of summer camp and look forward to the upcoming week (which will be the largest and busiest week thus far), the mission holds true among counselors, support staff, and leadership.  Surely God is in this place.
For a bio of Terry Patterson and other staff members (or information on retreats, conferences, and camps) you can visit Montgomery's website http://montgomerycenter.org.