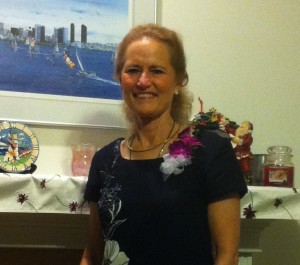 By: Sandra Hedrick
Diane Wilson was examined and received into membership of the Presbytery of St. Augustine on December 12, 2013. One of the most touching parts of Diane's faith journey was her gratitude for the love and strong faith foundation provided by her fourth grade Sunday School teacher. Diane served as an assistant pastor in a California church before spending 20 years as a Navy chaplain. She comes to us from Stockton Presbytery in the Synod of the Pacific.
Currently, Diane and her husband Blane live in the West Jacksonville area and have become a part of the faith family at St. Giles Presbyterian Church. Diane and Blane met and married while they both served with the Marines at Camp Le Jeune, North Carolina. He is a retired Navy Captain, having served as a corpsman and nurse for 31 years in the Navy.
Diane has a passion for ministry through music and drama, which she used extensively in her 20 years of ministry to military service personnel and their families. Today she looks forward to giving her gifts and talents in this area to the church. Rebecca Gillespie will be her presbytery mentor.
Welcome Diane!