By: Sandra Hedrick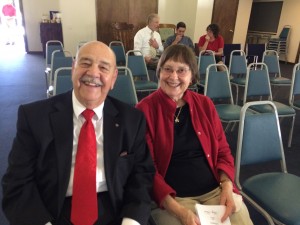 Say hello to Rev. Earle Francis Sickels, the first of our ministers (church members, pastors, deacons, ruling elders, and staff) who will be interviewed in this new column:
Earle is in "active retirement" as the pastor of Calvin Presbyterian Church, a small but mighty church in the Englewood area of Jacksonville.  He and his wife Lee live in Riverside Presbyterian Apartments.  They have five children: three live in Florida, one in Chicago and one in Cleveland. They also have 13 grandchildren and two great grandchildren.
Earle was not always a Presbyterian pastor.  He grew up in Cleveland and graduated from Kent State University in 1952 with a B.A. in Chemistry and Biology.  His first job out of college was in the chemistry lab at the Ravenna Arsenal.  
When the arsenal was closed down, he began working in the development lab at the Glidden Company in Cleveland, Ohio and then with a small family owned company in Bedford, Ohio. After twenty years, that company was sold.  Earle and Lee soon relocated to a warmer climate, where he worked for an Ocala, Florida paint company.
Earle and Lee had been active in a UCC church in Ohio, but when there were no UCC churches in the Ocala area, they joined the Silver Springs Shore Presbyterian Church, where Bud Armstrong was pastor.  Through the voice of his pastor in Ohio and his new pastor in Florida, God's calling to ministry became louder and harder to ignore.  In 1992, Earle began classes in Orlando at Columbia Seminary's Extension Program.  Eventually, after much prayer, he and Lee decided that he should retire from the paint company and go full time at Columbia in Decatur.
Earle graduated in 1996 and began serving McRae Presbyterian Church in McRae, Georgia. After his mother had her second stroke, they moved to Ocala, and Earle was asked to serve as a stated supply pastor at Bethlehem Presbyterian Church in Gainesville until August 2008.  That is when Earle retired again and moved to Jacksonville, where he currently serves at Calvin Presbyterian Church.
The Meals on Wheels program is another one of Earle's passions.  It serves meals to seniors in our community who need them every day. In 2012, he agreed to serve as the Meals on Wheels Coordinator.
What excites Earle about the ministry is seeing people grow in their faith and their commitment to Jesus Christ, and to help people help each other.  He feels that church fellowship is so important to getting through the struggles of everyday life in this changing society.  This connectionalism is what drew him to the PCUSA originally and keeps him going in spite of the divisions he sees ahead of us.
When asked about the advice that Earle would give to the younger generation, he says, "don't give up on the church.  It is the hospital for sinners in which all of us are in need of some healing.  And Jesus Christ is the great healer."
Earl shares that he not only hopes – but he prays – for the future of the Presbyterian Church (U.S.A.) – that in spite of our differences we do not separate from each other, but learn to live together.  Peter and Paul did not see eye to eye on many things but they continued to work to bring the kingdom of God to God's good creation.
If you would like to correspond with Earle after reading this story, he can be reached at revearles@yahoo.com.