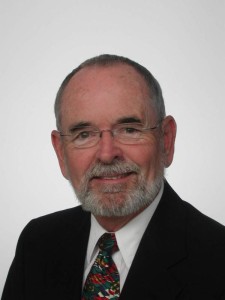 Bill Russell was introduced at our 2015 Winter Stated Meeting.  This biographical information comes from him:
Born and raised in Windsor, Ontario, Canada, I studied philosophy at the University of Toronto and theology at Knox College, Toronto, and Princeton Theological Seminary. Early in my ministry in the (then) United Presbyterian Church (USA), I served as an assistant minister at the Fifth Avenue Presbyterian Church in mid-town Manhattan and as the senior pastor of the Wyoming Presbyterian Church in Millburn-Short Hills, New Jersey.
In 1973, I was called to the Church of St. Andrew and St. Paul in Montreal, Quebec – the "cathedral church of Canadian Presbyterians." As part of my ministry there, I was appointed chaplain to the Black Watch (Royal Highland Regiment) of Canada and its Colonel-in-Chief, Her Majesty Queen Elizabeth the Queen Mother, whom I served with pride for ten years and then remained in contact for the rest of Her Majesty's long life.
After a decade of providing significant, and often dangerous, leadership to the English-speaking minority in Quebec during that province's first wave of nationalism and separatist fervor, I was called to be the General Secretary and Chief Executive Officer of the Canadian Bible Society. In the six-and-a-half years of my Bible Society ministry, I traveled extensively in the Bible cause, visiting some 30 countries on 5 continents, many of them "third-world" destinations behind the "Iron Curtain" and in Latin America. Due to severe illnesses both I and my wife, Ann, contracted during our last visit to four countries in the South American Andes, we Russells retired in 1988 to our beloved lakehouse just outside Rondeau Provincial Park on the north shore of Lake Erie in southwestern Ontario.
After a year's convalescence, during which I studied to become accredited for intentional interim ministry by the Interim Network out of Baltimore, Maryland, I was called unexpectedly to Deerfield, Illinois, a "north shore" suburb of Chicago for a ten-year senior pastorate, after which I moved to Royal Oak, Michigan, to a similar ministry much nearer my aging parents across the Canada/USA border in Windsor, Ontario. Plagued by ill-health again, I retired at the end of 2001, after two major surgeries and the loss of my mother to Alzheimer's. The sudden and unexpected death of my wife, Ann, a few months later, and then of my father a few months after that, brought to an effective close my 40 years of active ministry.
Retirement brought recovery, however, and in the winter of 2003-4, on my doctor's orders, I went to Destin, Florida for a few months, met, fell in love with, and courted the former Sharon (Sherri) Nelson Fuss. We were married at my Canadian lakehouse on July 4, 2004.
Health and strength restored, I became a "rentarev" (then my e-mail domain name), and made myself available for supply and interim preaching, weddings, funerals and pastoral counseling, both in Southwestern Ontario and in the Destin area of the Presbytery of Florida. In 2011, we moved to Ponte Vedra Beach, where I am now in full retirement mode… although I am still available for occasional "emergency" supply preaching situations.
In September, 2010, Parson's Porch Books published a collection of twenty-one of my "signature" first-person sermons in a volume titled "IF ONLY I HAD KNOWN…" Transformation Testimonies in Soliloquy Sermons and Monologue Meditations. I have been a regular contributor of articles and sermon reviews to the in-print and on-line journal Lectionary Homiletics for the past three years, and I am currently working on a second book, as yet untitled, of studies and sermons about the unique "I am…" sayings of Jesus in the Gospel of John.
Thank you, Bill, for sharing your journey with us – we look forward to getting to know you better!