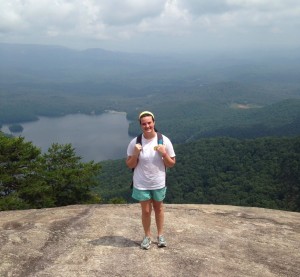 Note: Molly is our Young Adult Advisory Delegate to this summer's General Assembly of the Presbyterian Church (U.S.A). 
By: Rev. Laurie Furr-Vancini, Palms Presbyterian Church
Molly, born and raised in Jacksonville, FL, attended Palms Presbyterian her whole life until she ventured off to Clinton, SC to attend Presbyterian College last fall. In high school she participated in a mentoring program to younger classmates, was Editor-In-Chief of her yearbook, and was in the National Honor Society. While in the Youth Program at Palms, she was a member of the Palms Youth Ministry Team, participated in various service projects, served as a high school leader for middle school retreats and a mission trip, was the D3 last summer learning about discipleship, discernment, and dialogue, and attended ten mission trips and one pilgrimage to Taize, France.
Molly decided to attend Presbyterian College after finding the people, liberal arts academics, campus, location, and the college's motto of, "while we live, we serve," very fitting to her ideal college experience. Molly was the recipient of the 2013-14 Outstanding Youth Church Leader Award at Presbyterian College.
Now at Presbyterian College, she is busy with many extracurricular activities. She is a member of Sigma Sigma Sigma, a national sorority, Celtic Cross, Bluefish (Stephen Ministry), Presbyterian Student Association, and Spectrum (you can ask her to explain these organizations in detail). She additionally is employed with Sports Information on campus and is preparing to be a Resident Assistant next fall. She is planning to be an English major and is debating between pairing that with a Religion major or minor and possibly other minors.
This summer, Molly will serve as Palms Presbyterian's Summer Youth Intern.
Molly applied to attend General Assembly to, "Meet and gather with Presbyterians from near and far to talk about our faith and core beliefs and see how the Spirit moves each individual." In attending she hopes to learn more about PC(USA) on the denominational level through first-hand experience, and she hopes to provide beneficial dialogue on her assigned committees. She is excited to see fellow classmates as YAADs in Detroit and make new connections, as well.