Elizabeth Mitchell is one of our ruling elder commissioners to the 221st General Assembly to be held in Detroit this June.  This article is the first in a series about our elected commissioners.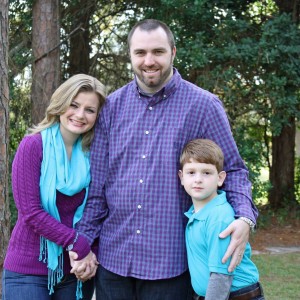 By: Sheldon Steen, Pastor, First Presbyterian Church of Jasper, FL
Elizabeth Mitchell was born in Ft. Hood, TX and was raised in White Springs, FL. She and her husband Ryan Mitchell have one child, James (age 7), and they live in Jasper, FL.  She graduated from Hamilton County High School in Jasper in '01 and attended Florida State University where she graduated with a degree in Social Work ('04).  She has been working as the School Social Worker at Hamilton County High School since '07.
Elizabeth was not raised Presbyterian.  She spent a good bit of her life as a self-described "church nomad," having worshipped in many congregations throughout her life.  She never quite felt at home in any one church and was not sure if her beliefs aligned with her a particular denomination.  What she appreciates about that experience is wide breadth of expression in worship that she was privileged to participate in.  She says it taught her that we can worship God in many ways and what matters is less about how we worship, but simply that we worship.
Elizabeth first became involved in the Presbyterian Church in Jasper as a teenager through her involvement with the youth group.  As she matured in her faith she became more and more curious about what it meant to be a Presbyterian.  As an adult she felt a strong desire to join the church but wanted to research more about the Presbyterian Church and its theology.  After much study and prayer she knew that she was ready to join and discovered that she had been Presbyterian all along without realizing it!  She became a member of First Pres. in Jasper on the same day her son James was baptized.
More than anything, the sense of family is what drew Elizabeth to the church.  She says she found an openness there and she knew she could call on anyone in the church in a difficult time and they would be there.  And they were!
Since joining the church in '07 Elizabeth has been involved in the ministry of the church in many capacities.  Because her passion and gifts in music she joined the choir and is now the choir leader.  She has served on or been chair of multiple committees, teaches Sunday School, coordinates the annual Christmas Program, and was ordained as a Ruling Elder in 2011.
Serving as a Commissioner at General Assembly this summer makes Elizabeth both incredibly excited and a little nervous.  She strongly believes in the structure and governance of the PC(USA) and, believe it or not, is a pretty big fan of the Book of Order! She relishes the opportunity to be a part of the process of moving the church forward while remaining faithful God's word and God's purpose for the church.
Elizabeth understands that this is a difficult time in the life of this denomination and this Presbytery but values the gift of worshipping together as brothers and sisters even when we disagree.  She is eager to worship with other ruling elders and teaching elders from across our denomination, while prayerfully discerning God's future for the church to further God's kingdom.
Last, but certainly not least, Elizabeth is an avid football fan.  Most Saturdays and Sundays in the fall she can be found losing her voice while watching the Broncos and the Seminoles.