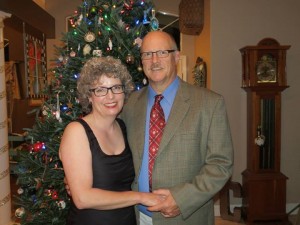 By: Diane St. John, Ruling Elder at First Presbyterian Church, Lake City, Florida
Elizabeth (Betsy) Clarisse was born and raised in central New York State, the youngest of 5 children, and has a dual degree (History and American Studies) from the State University of New York at Brockport. Married since 1986, Betsy and her husband Bruce have 3 children. Daughter Megan, 24, is a graduate of the University of West Florida and resides in Pensacola. Daughter Amy, 20, attends the University of Central Florida in Orlando. Son Jared, 22, lives in Lake City with his parents.
Bruce's job as an engineer has taken the Clarisse family to 7 states and 2 Canadian provinces before landing them in Lake City, Florida in 2008. Each time they relocated, they looked for a church that could accommodate the family. Unfortunately, there have been as many failures as successes in this endeavor. Having a child with autism, it was important to find a church home that would welcome and nurture every member of the family. Betsy and Bruce are founding members of a community support group for parents of young adults with exceptional needs. The Clarisse family is very close-knit, but Betsy finds time for some of her favorite things: sewing, reading, dogs and motorcycles.
Betsy was christened in the Episcopal Church and has attended Methodist and Lutheran churches. She has been a Presbyterian since 1993 and was ordained a deacon at Tawas Area Presbyterian in East Tawas, Michigan. They have been members of First Presbyterian in Lake City since 2009. She has served on several church committees, volunteered at the church office, acted as greeter, communion server and liturgist. Betsy is a member of the cooking teams that prepare meals for Wednesday night Dinners. She even painted the baseboards and trim in the Fellowship Hall!
Betsy was ordained as a Ruling Elder in 2011 serving as the chair of the Personnel Committee. She has been a Commissioner to Presbytery since 2011 and was recently elected to serve on the Presbytery Council as an At Large member.
In her own congregation, Betsy has seen the impact of changes to the worship service and all the issues those changes created but says these things have caused her faith in the growth of her church to strengthen. She agrees with GA Commissioner Elizabeth Mitchell that this is a difficult time for our denomination and has concerns about the future of the Presbyterian Church, USA.
Betsy says there is a difference between attending worship and serving on committees at a local level, and seeing that our single church is a small piece of a large puzzle, even beyond the Presbytery level. Often, there is no single answer to any problem and Betsy believes that experience and an open heart are essential to making informed decisions. She wants to bring her knowledge (and ignorance) to General Assembly and be a part of the decision-making process and see for herself how our form of government works. Betsy wants to bring that knowledge back to her church, her Presbytery and share the enlightenment and hope that she believes being a participant in General Assembly will provide her.