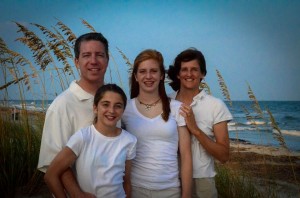 This article continues our series on our General Assembly Commissioners –
Andy Gans grew up in Baltimore, Maryland with his parents and two siblings.  While growing up, Andy and his family were not very consistent in their church attendance due to his mother's battle Multiple Sclerosis.  Andy's appreciation of faith and church came whenever he visited his grandmother who was at church whenever the doors were open.  Andy's college selection sent him to Southern Methodist University in Dallas, Texas.  Following college, he worked in television for over ten years as a news and sports photographer for NBC and ABC.  While working in television, he also volunteered at his church as a youth leader, and it was then that he understood his next career path and ministry.  Andy's first calling to the church was as a Youth and Children's Director.  About six years later, he sensed God's calling to enter ordained ministry, and he enrolled at Columbia Theological Seminary.
Andy's first ordained call was to run a homeless ministry in downtown Atlanta at Central Presbyterian Church.  This ministry opened his eyes to the needs of the marginalized and his responsibility to seek justice for them, and with them.  Currently Andy is the pastor of Fort King Presbyterian in Ocala where he enjoys leading creative and energy filled worship services. Fort King is, and has been since its inception, a socially active church that seeks ways to create peace, speak out for justice and welcome all of God's people.  Fort King is known in Ocala as a leader in creating opportunities for interfaith dialogue, worship, and finding ways to bring people together with a goal of breaking down barriers, and establishing organizations that seek to aid the marginalized.
Andy is heavily involved with our Presbytery and serves on its Personnel Committee, Crisis Response Team and also serves on the board of Camp Montgomery.  Andy has also served on the Worship Committee, Presbytery Council, Mutual Mission and has been an adult leader for the JEMM Youth exchange.
Andy has been married to Cheryl for 23 years, and they have two high school aged daughters who love soccer and are heavily involved in their travel and school teams.  Cheryl is a graduate of Columbia Theological Seminary and is certified ready to receive a call.  In the mean time, she is on staff at The Presbyterian Church of Marion Oaks, runs a summer day camp for children, is a substitute teacher, volunteers with Hospice, and is taking CPE.
Andy tells us there are two experiences that have greatly influenced his ministry over the years.  The first was his work with those who are experiencing homelessness.  Working with these people, listening to their struggles, seeing firsthand how the "system" and other people worked against them made him passionate for their strife and to work towards bettering their situation.  The other experience he had was when he was visiting the Holy Land, in one day he saw two situations that changed the way he thought about peace and justice in Israel and Palestine.  The first situation was when he was trying to enter the Old City on a Friday morning.  Lines of people surrounded the entrance awaiting admittance by Israeli security.  
While waiting, Andy saw Palestinian men interrogated, pushed aside, and even pulled aside by their ears, making entrance into the city almost impossible for them.  The other incident occurred on his way back from the Holy City.  Andy saw a Palestinian man having a seizure on the side of the road.  Others had stopped to assist the man, and eventually an Israeli police officer stopped, but once he saw that the man was Palestinian, he walked back to his car and drove away.  At that moment Andy knew he needed to focus his ministry on seeking and teaching peace to others.
Andy looks forward to the wonderful opportunity and the great responsibility of serving as a commissioner to our denomination's General Assembly this summer.  He prays for God's guidance as he and others discern God's will for this great denomination.