By: Cindy Benz, Interim Pastor – First Presbyterian Church, Palatka, FL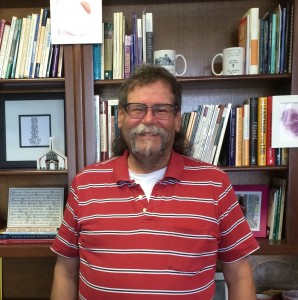 Steve is one of those rare birds among us – a lifelong Presbyterian. He grew up in southern New Jersey in the northern stream of the denomination, but eventually made his way south. He graduated from Juniata College in Pennsylvania with a BA in History, then moved to Western Michigan University and got an MS in Librarianship. He lived and worked in West Virginia before coming to Palatka, FL, in 1989 to serve as the Director of the Putnam County Library System. As you might guess, Steve likes books. He likes to read, he enjoys creative writing, and he likes writing liturgy for worship! (His pastor is going to put him to work soon on that!) He also enjoys theater and has combined his interests recently by writing a drama for worship on Palm Sunday. Like many good Floridians (particularly the kind who have migrated from the north), he also enjoys walking on the beach.
Steve has served the Church in a wide variety of ways: Sunday School teacher, youth leader for both middle school and high school, ruling elder and Clerk of session at First Presbyterian Church, Palatka; but he has also served at the presbytery level as an adult lay advisor for the presbytery youth council, and most recently as a member of the Administrative Commission for the Geneva Church in Switzerland, FL. So far, his favorite job in the local church was working with middle schoolers, "because they are the ones who seem to fall through the cracks." His experience on the AC has whet his appetite for presbytery work, and we are hopeful he will plug in elsewhere in the very near future. Steve has also confessed a lifelong interest in preaching, so who knows?
When asked about the opportunity to serve as a ruling elder commissioner to General Assembly in Detroit this summer, Steve said he hopes "to be moved by God's Spirit to do the best I can for the Church of Jesus Christ."