By: Andy Gans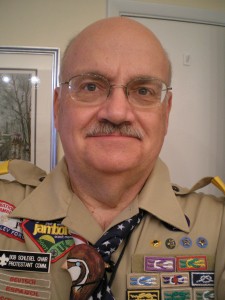 Let me introduce to you Bob Schlegel, Jr. Bob is a lifelong Presbyterian, what some would consider a "Blue Blood Presbyterian." Bob was baptized in the Westminster Presbyterian Church in Yonkers, New York in 1945 and has been a Presbyterian ever since.
Bob is quite the educated man through his schooling, traveling and work. Bob graduated from the then College of Engineering of New York University (NYU) in 1967 and was commissioned a 2nd Lieutenant, Ordnance Corps, US Army Reserve, the same day.
After a year's work at Underwriters Laboratories (UL), Bob went from reservist to active duty serving at White Sands Missile Range, New Mexico and in Pyongtaek, South Korea.
Returning to the US and UL in 1970, Bob continued working in public safety testing and the US Army Reserve, retiring as a Managing Engineer and Colonel, Transportation Corps, respectively. He had the huge task of overseeing UL's inspection programs worldwide and got to visit a few exotic and many not-so-exotic factory and military installation locations around the world. Bob's quest for more knowledge continued as he sought and obtained a M.S. in Management Engineering from Long Island University and served on the graduate faculty there. A certified US Army Logistician, he is a graduate of many military schools, including the US Army War College – where he obtained a diploma in International Strategic Studies.
I believe Bob's greatest joy is where his knowledge and faith intersect…scouting. Bob became active in scouting in 1968 when he donned the blue and gold of the Cub Scouts. Bob's passion for scouting took him to the highest honor any young man could attain, the very prestigious Eagle Scout award. Bob is no stranger to scouting awards. He received the God and Service Award of the United Presbyterian Church in the US (one of two precursors to PCUSA), the Celtic Cross award from NAPS, and Todah award from Jewish Scouters. Bob continues to be involved in scouting today. He has joyfully worked with religious committees of many faiths to promote the twelfth point of the Scout Law: "A Scout is reverent." Bob would consider himself officially retired, but I'm not so sure his wife would agree. Bob's continued volunteer work with the scouts has him traveling the globe attending four national and two world jamborees, serving on a Boy Scouts of America (BSA) regional religious relationships committee, and is currently a Director of the National Association of Presbyterian Scouters (NAPS).
Bob's faith and his church are the life blood of who he is. His service to God and church is seen through his work with the scouts and with the local congregation of which he has been a part. While living on Long Island, NY, he was a member of the Oyster Bay Church (PCUSA) for 31 years, where he served as a Session member for years, including five as Clerk of Session. He is currently serving as our Clerk of Session here at Fort King.
Bob is thankful to God for the love of his life, Sheena, who is a lovely Scottish born woman who enjoys being a Master Gardener. They were married in Saint Mary's Parish Church (Church of Scotland) in Haddington, Scotland in 1991 and they moved to Ocala in December 2011.
As you can tell, Bob likes to keep moving. In his "spare time" he is an active Mason, and enjoys philately, auto mechanics, veterans groups, and US national security. While at GA, Bob looks forward to attending the National Association of Presbyterian Scouters meeting and catching a Tigers baseball game.