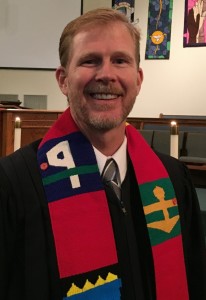 The Presbytery of St. Augustine held its service of worship to install Joe Albright as the pastor of Geneva Presbyterian Church (Jacksonville, Florida) on November 22, 2015.
The joy of this occasion was heightened with inspiring music, including the prelude "How Great Thou Art" and the postlude – Bach's "Prelude in G Major." After the passing of the peace, everyone's heart was stirred when the Chancel and Youth Choirs sang "God's Gonna Set This World on Fire! The Rev. Dr. Gabe Goodman preached a message of hope and encouragement to the pastor and the congregation and reminded them not to forget the journey that has led to the service of installation. After Joe answered the constitutional questions in the affirmative, the Rev. Amy Camp charged Joe Albright, and the Rev. Dr. Herb Meza charged the congregation.
Following the service, there was a reception in the fellowship hall with sweet and savory refreshments and a celebration of friendship and laughter! We greeted Joe and his family with blessings and congratulations.
The members of the commission to install Joe were: Rick Ulp (ruling elder – Geneva), Gabe Goodman (teaching elder – Community), Nancy Yeakel (ruling elder – Community), Amy Camp (teaching elder – Memorial), Jim Montgomery (ruling elder – South Jacksonville), and Cynthia Montgomery (teaching elder – presbytery moderator). Herb Meza (honorably retired) was a guest of the commission.