By: Jerie Lukefahr, Ruling Elder at First Presbyterian Church of Fernandina Beach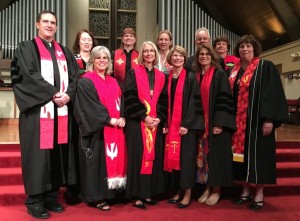 Gusty sea breezes (and the Holy Spirit!) moved through Palms Presbyterian Church as friends, family and colleagues gathered for the presbytery's Service of Worship and Installation for Rev. Dr. Holly J. Inglis, held at 5:45 p.m. on Sunday, October 18.  A reception followed the service, prepared by the Presbyterian Women of Palms.  Holly's husband of 37 years, Mark, one of their two sons, Peter, and daughter, Leah, celebrated along with members of the congregation.  Holly will serve as the Associate Pastor for Nurture at Palms.  Beginning next year, she will also serve as president of APCE, the Association for Presbyterian Church Educators.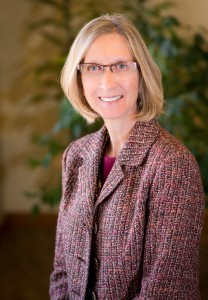 Scripture readings, first from Psalm 23, then from John 21:1-17, highlighted the Lord's role as our Good Shepherd: feeding, tending, leading. The Rev. Dr. Kathy Dawson delivered the message, noting that Jesus did not need the disciples' catch that morning- he was already cooking fish when they came ashore. By combining their fish with his, however, Jesus showed his followers that it is in working with Christ that we can feed, tend and care for others. Following Jesus' example, Dr. Inglis will nurture and feed the people of Palms Presbyterian through faith formation, preaching, leading and teaching. One of Holly's gifts, it was noted, is the attention she pays to others – not only to the needs of those she serves but also to the gifts they bring to the church.
The Sunset Music Team, comprised of Debrann Johnston, Momo Fujita, Dave Hotchkiss, Roger Altiss, Ron Cummings, Mike Taylor, C.J.Dates and Rev. Dr. Tom Walker, presented a gift of special music, an arrangement by Chris Tomlin of the hymn "Take My Life."
When Presbytery Moderator Cynthia Montgomery asked Holly the constitutional question about serving the people with "energy, intelligence, imagination and love," Holly raised her arms overhead, pumped her fists in the air, and proclaimed enthusiastically "YES!"
Long-time friend to Holly, Dr. Susan Moseley, CCE, gave the charge, ending with words from the song, "I Hope You Dance," originally recorded by Lee Ann Womack:
I hope you still feel small when you stand beside the ocean
Whenever one door closes I hope one more opens
Promise me that you'll give faith a fighting chance
And when you get the choice to sit it out or dance, DANCE!
Holly won't have much time to sit anything out these days, as she and Mark closed on their new home the same weekend as her installation, and she is already participating in the life of the church in strategic planning meetings, author workshops, and more. Blessings to the Inglis family as they settle into their new home and become part of our community of faith.