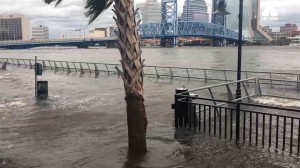 As recovery efforts continue in the wake of Hurricane Irma, the St. Augustine Presbytery Disaster Assistance Commission, in coordination with the Florida Presbyterian Disaster Assistance Network (FLAPDAN), wishes to share important information to everyone affected by the storm.
Legal Aid Hotline for Irma Survivors (free legal advice for those who can't afford an attorney)
Home Cleanup Hotline for Hurricane Irma
From now through September 30, call the number below for help with home cleanup. As they are able, reputable and vetted relief agencies may assist you and your neighbors cut fallen trees, remove drywall, insulation, flooring, furniture, appliances, tarp roofs, etc. All services are free, but service is not guaranteed due to the overwhelming need.
It is important to understand this hotline CANNOT assist with social services such as food, clothing, shelter, insurance, or questions about FEMA registration. Volunteers work free of charge and provide the tools and equipment necessary to complete the work. To request help: Call 1-800-451-1954