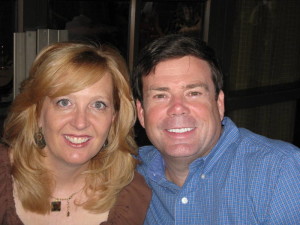 By Sheldon Steen, Pastor – First Presbyterian Church of Jasper, Florida
You probably met Richard Kirk the same way I did: at a presbytery meeting hearing his report from the Mutual Mission Committee or handing out 2 Cents-a-Meal jars. In many ways Richard is the face of Mutual Mission in our presbytery, which is great because he's so good at what he does! But, there is also much more to Richard than his work with Mutual Mission. Richard was born and raised in Ocala and is a lifelong member of First Pres. Ocala, where has served an elder and a Sunday School teacher. It was through his ministry on the Mission Committee in his local congregation that he met Alisun Donovan, which eventually led him to get involved in Mutual Mission six years ago. In 2010 Richard was one of the co-leaders of the Youth Exchange trip to Jamaica, which really brought home to him the needs of our partners there and the special relationship we have with our friends on the island. Not surprisingly, he has been back many times since!
Richard did his undergraduate work at St. Leo University and he has a Master's degree in History from USF, Counselor Education from UF, and Religion from Liberty University. As you can clearly see, education is an important part of Richard's life. He is currently a professor at the College of Central Florida where he teaches Humanities, Comparative Religion, Leadership Development, and a variety of history classes.
It was through his position at Central Florida that he met his wife Dawn, who was also working at the college at the time. They were married in May of last year and are quite obviously crazy in love. Dawn is currently working on her Bachelor's degree in Elementary Education at St. Leo and also works part-time with a local group that serves young adults with special needs. It might be cliché to say that they are match made in heaven, but when you are with them it's clear to see what brought them together. When Dawn and Richard are not working or serving in some way they both love to read and hike together.
Richard's passion for the work of Mutual Mission has also led him to start the Alternative Spring Break program at the College of Central Florida. Every year during spring break students have the opportunity to work in an underserved area of the country and spend their time off serving others. Since the program began they have sent students to Jacksonville, Miami, Atlanta, Biloxi, and Asheville. 2015 will be the fifth year of the program! The Alternative Spring Break program is a wonderful example of what can happen when we follow the unique callings that God has given to us. This program grew out of Richard's passion for the work being done with Mutual Mission. He then imagined a way to expand on that work and spread the blessing to others. Richard's ministry in our presbytery and at Central Florida is a powerful reminder that God blesses us so that we might be a blessing to others. Richard's hope for the future of the church is that our spirit of giving would continue to grow and that we would constantly seek news ways to demonstrate and embody God's love.
I have served on the Mutual Mission Committee for the past year and I can say without hesitation that we are so fortunate to have Richard in leadership in our presbytery. I consider it a great blessing to be able to call Richard my friend, and I hope that you will take the time to get know him so that you can be blessed by his friendship too!