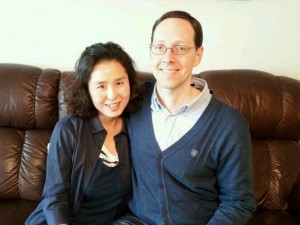 These greetings are from presbytery member Brice Rogers and his family.  Brice currently lives and studies in South Korea.
Dear Friends of St. Augustine Presbytery,
Spring and Easter greetings from Seoul, South Korea! The winter here is almost 6 months long, so finally now in April we can truly celebrate the coming of spring. It's been a long and busy winter for our family, and even with the change of season there is not much of a break in our schedule!
Brice enjoyed a rest from his Church History PhD studies at Yonsei University during January and February… Korean universities have a long winter break due to the frequent snows and dangerous conditions. He took advantage of that time to do lots of reading and research related to his planned dissertation topic – the church of 2nd and 3rd century Alexandria. He also started to study Latin, and just last week took his test for competency in Latin as a research language (we are still waiting to know the result).
There was a happy surprise from Brice's first semester of study – he received a merit-based scholarship award from Yonsei for his coursework! The award included both a certificate and $1,000 cash – a big help with some of the books and study expenses of the new semester. After the spring semester began in March Brice has had a full load of classes, studying about early missionaries to Korea (H.G. Underwood from the USA and O.R. Avison from Canada), the history of the Bible, Modern Church History and Latin. The Underwood family played a big part in the founding and development of Yonsei. They built a house on Yonsei campus that has been made into a museum – Brice was able to visit it together with his classmates.
Our English Worship Ministry continues to go well. We meet every Sunday afternoon for worship, Bible study and fellowship. Some of our congregation have moved abroad for study or work reasons, but others continue to find their way to our gathering. We are gearing up for the Easter celebrations in a few weeks' time. Last month we started a new Bible study series, following the history of the people of Israel starting from the Exodus. Even some who have been Christians for many years have never read the Old Testament! The conversations are quite lively and many people have a growing desire to know more about the Bible. One of our group is originally from Cambodia, he is married to an American woman. They are preparing to move to Cambodia to begin a Christian-based youth camp! We'll miss them but we are excited about the new places God is taking them.
Sungmin continues to serve in our English ministry were she coordinates our work and counsels many of our members. She also continues her journal writing. After prayerful consideration, she decided not to continue her work at the Gospel Kids School in the new year that started in March. Now she is able to focus more energy on the ministry and journal work, as well as keeping up with Justine's educational needs.
Speaking of Justine, she has had a big change in her schooling! The day after Sungmin left her work at Gospel Kids, Justine began to study there. It means a switch for her from mostly Korean language to English language training, and teachers who are more focused on education than in her previous school. It also means a 30 minute drive for us to take her to school and pick her up! We are all getting used to the new routine, and she seems to be adapting better and better to the new kinds of learning. We are very thankful that she already knew the teachers and kids before she started there, so the relationships have not been difficult.
That's what we are up to nowadays – we hope you enjoy the attached photos! We welcome your prayers for God's continued provision and blessing in all the aspects of our lives and ministry. We also ask your continued prayers for Egypt – the land where we used to serve – as the people there struggle with so much conflict, confusion and violence.
We are planning to visit Jacksonville, FL this summer and hope to see you all then!
Blessings,
Brice, Sungmin and Justine