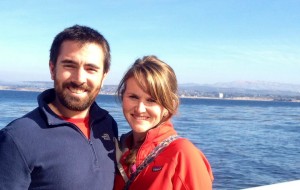 As the summer ends, we will say good bye to a dear friend and valuable asset to the St. Augustine Presbytery, James Callan Findeiss or Cal for short. Cal has been the Program/Associate Director of Montgomery Presbyterian Center for the last six years. Coming from Tulsa, Oklahoma, he has given his heart, soul and energy to provide a space for community and hospitality to all who enter Montgomery's grounds.
Though Cal has been at Montgomery Presbyterian Center for six years, he has served the summer camp program for 10 years. He attended summer camps at a Presbyterian camp in Oklahoma and he knew from those experiences that he wanted to work at summer camp. He arrived at Montgomery for the summer of 2004, first as a music director and after graduating from the University of Oklahoma, he became the year round Program Director. Showing a strong work ethic and having a contagious amount of positive energy, Cal has grown Montgomery to be a place where people can truly experience Christ and creation.
During Cal's time at Montgomery, he has created countless memories and connections with people. When asked about what he loves about Montgomery, he responded with, "It truly is a space set apart for people to find respite from their chaotic lives and re-center in Christ." He goes on to say, "The best part about Montgomery is the versatility of the site. On the same day, an adult conference, a youth retreat, and a church picnic can be going on and the groups will not feel crowded or know that the other groups are even there." He has accomplished much in his time here at camp. He has affected lives in a positive way, by ensuring that each staff member is treated with care and respect.
It is hard to say good bye to such a great man, but we can always see his impact when we look at the youth of our presbytery. Cal's hope in being a prominent figure at Montgomery was to help campers to explore their own faith journey and bring them closer to their local community of faith, a.k.a. church or youth group. For this we say thanks to the wonderful man that is Cal Findeiss. You truly have welcomed all people to experience Christ and creation in ways that deepen faith and strengthens relationships!