By Heidi Joy Howard, Presbytery Administrative Assistant and Godly Play Leader at the Riverside Church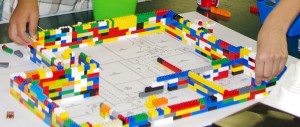 Rally Day festivities rang out presbytery-wide during the start to the school year. Churches within our presbytery drummed up thoughtful ways to celebrate, from beginning a large mosaic, to creating a Lego model of the educational building's new wing. In one instance, even hard-hats were distributed.
On August 30th, adults enjoyed a catered meal in the fellowship hall during the Sunday School hour at First Presbyterian Church, Fernandina Beach. Teachers were introduced and some gave a few remarks about their classes. Classrooms, curriculum, and class schedules were available for viewing.
All hands were on deck as hard-hat-wearing children and teachers wrote scripture and prayers on the framework of the educational building's future wing. Children were invited to help construct a Lego model of the basic shape of the new structure, fitting the theme, Building God's Kingdom. "Pictures of the children will be taken to be enlarged and displayed in the new hallway when it is finished," said Doris Davis, Director of Christian Education at the Fernandina Beach church. "I hope this construction experience will help all participants realize the part we each have in building God's Kingdom."
Children leapt into the school year on September 13th at Riverside Presbyterian Church, with the Rally Day theme, Fully Rely on God (FROG). Children were invited to visit their classrooms scavenger-hunt style, looking for hidden rubber frogs and received a prize when all were found. Parents met teachers, and adults toured the church campus learning about all of the programs and ministries available throughout the year, including Sunday School classes for children and adults. "The tour will also include a congregational photography exhibit, photo booth, food stations, and a chance for each member to participate in making a mosaic," described Emily Heeg, Director of Education and Formation at the Riverside church.
During the 11 a.m. worship service, the congregation was treated to the soulful sounds of the H. Alvin Brown Memorial Alumni Choir. Their spirits leapt high, hoping for a beautiful year ahead.