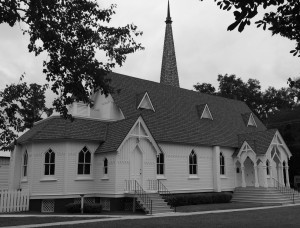 By: Sandra Hedrick, Stated Clerk
Photo: First Presbyterian Church, Green Cove Springs, Florida
The program for entering 2013 statistics has closed, and over the next few months I will use them as a springboard to share some interesting facts and figures about our congregations. Starting with the basics, the total number of congregation members in our presbytery at the end of 2013 was 17,074 (it was 17,334 in 2012). Twenty-one of our 63 churches had a net increase in membership.
There are three churches in our presbytery with over 1,000 members, eight between 500 and 1,000, 23 between 100 and 500, and 29 with under 100 members.
On another topic, we want to congratulate Middleburg Presbyterian Church ("The Church on the Hill") on its 25th anniversary to be celebrated in worship on Sunday, April 27th.
Also, please note that First Presbyterian Church in Green Cove Springs will no longer use a post office box to receive mail.  All correspondence should be mailed to: 300 Gum Street, Green Cove Springs, FL 32043.  The new email address for the office is: Admin@firstpresgcs.org.