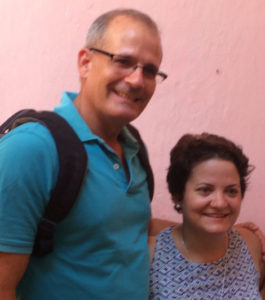 Church, Coffee & Culture
Monday, August 5, 3-5 p.m.
Our presbytery family is invited to Church, Coffee & Culture with the Rev. Dr. Ary Fernandez-Alban and the Rev. Dr. Beidy Casas-Aragon, a dedicated clergy couple who serve in Matanzas, Cuba. Join us in celebrating our Cuban Connection on Monday, August 5, at 3:00 p.m. in the Fellowship Hall at Memorial Presbyterian Church, 32 Sevilla St., St. Augustine. (Parking is available in the lot on the corner of Valencia and Sevilla Street.)
Hear the couple share the exciting news of what is happening in the Cuban Presbyterian Churches
Learn how your church can benefit from our presbytery's partnership with Matanzas Presbytery in Cuba and explore partnerships with a Cuban church
Learn how to make Cuban coffee and enjoy Cuban pastries
Hear live Cuban guitar music with Dennis Fermin- Spanish Guitarist.
Visit the Memorial Presbyterian Church website for a map and directions.