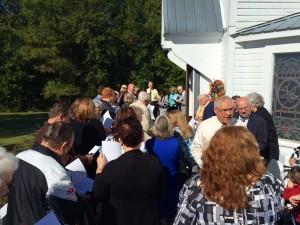 By Sandra Hedrick, Stated Clerk
At 11:00 a.m. on October 26, 2014, the Rev. Dr. Don McGarity led a congregation waiting outside the doors of the sanctuary with these words: "Open to me the gates of righteousness, that I may enter through them and praise the Lord" (Psalm 118:19). This was the beginning of the 130th anniversary celebration of the coming together of the family of faith known as First Presbyterian Church of Starke, Florida. It was in the fall of 1884 that 23 charter members formed that family, and it was in December 1886 that they dedicated their sanctuary to the glory of God (that sanctuary was later moved to its present site). Worship on October 26 was loud and Spirit filled – with the great highlight of the trumpet, trombone and tuba musicians of Gainesville Pops Brass. 
The congregation moved in a procession through the doors and to their seats singing "Crown Him with Many Crowns"! Liturgist/Ruling Elder Ralph Moulder welcomed members and guests, recognizing in particular some of the very long-time members, including one who joined the church 68 years ago! He then invited everyone to "pass the peace," which caused the entire body to stand and mingle enthusiastically for a very long time! After soloist Jordan Harrell praised God with "The Lord Is My Light," the word of God was read from 1 Chronicles 28:2-8.
In his message, Pastor Don challenged the worshipers to "dream big dreams and expect great things!" Preaching the gospel of Christ's sacrifice and resurrection, he reminded the congregation how God had given the charter members a big dream for the church and its part in Christ's mission. Then he encouraged the congregation by proclaiming that "God is not through with you or with each of us."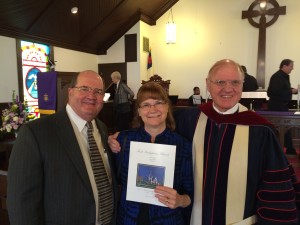 After a rededication litany – and while the Gainesville Pops players played a rousing version of "God Bless America" – the congregation moved to the fellowship hall to enjoy a great feast of meats, sides, bread and many different kinds of desserts. At the round tables, people of all ages visited as they shared this bounty with great thanksgiving.
The congregation's mission statement reads: "God's mission through The First Presbyterian Church of Starke, Florida is to serve the needs of the community through faith in God's grace and mercy" The members of this church are very active in serving the local community, provide leadership within the Presbytery of St. Augustine, and share their gifts and talents in response to the needs of the world. We thank our Lord for the ministry of First Presbyterian Church of Starke and pray for its awareness and response to God's amazing grace in its midst.