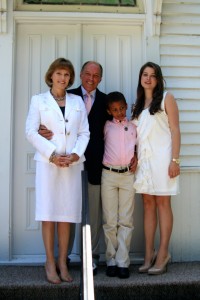 This story of a faith journey is by Tommy Lane, a Commissioned Ruling Elder who is serving as the Pastor of McIntosh Presbyterian Church:
St. Augustine Presbytery – and its predecessor, Presbytery of Suwannee, has been home to my faith-walk my entire life. But it was a close call. I was almost a Baptist.
My parents married in 1946 and my mother – wanting to do what she considered her "wifely duty" – planned to join First Baptist Church in Gainesville, my father's home-church. The pastor at First Baptist said my mother would be welcomed into membership upon re-baptism, as she had been baptized as an infant at Kanapaha Presbyterian Church in 1928.
She refused, as acquiescing to this demand would have said, in effect, that her initial baptism was of no effect.
Instead, my father joined Kanapaha (which of course accepted his immersion baptism). Once exposed to Reformed theology, my father became a dedicated student and a winsome advocate for how Presbyterians distill their faith.
So on the strength of my mother's willingness to take a principled stand over a theological issue, I 'escaped' being a Baptist. ☺
We were active members at Kanapaha where my father was clerk of session and both parents taught Sunday School and were Adult Advisors to a thriving youth group.
I remember being with my father in 1954 or 55 as we drove over the grounds which would become Camp Montgomery. He was on a Presbytery committee looking into the purchase of the property. I was an early camper when the facility opened.
At a Presbytery meeting in 1957, my father met the new minister of Highlands Presbyterian in Gainesville, and was immediately attracted to that infectious and unique style and personality of Bill Shea. We joined HPC shortly thereafter and were active in that ministry for many years. I had the great privilege of serving several terms with my father on the session at Highlands.
My wife was a life-long member of HPC, and my in-laws were charter members.
My life has been most significantly influenced by my father, Bill Shea, and those Elders at HPC who mentored me and taught me and encouraged me through the years, and who showed me how to "do church."
Of genuine significance are – over maybe a 25-year period – eleven people who were active at HPC went into full-time Gospel ministry. I do not have statistics, but surely this number ranks high on any list of such information, and is vivid and valid testimony to Bill's ministry and Highlands' impact on the Gospel effort.
As Bill's tenure wound down, I was richly blessed by the ministry at Highlands of Cliff Lyda – surely the finest preacher I have known. Cliff's influence upon me is hard to overstate for it was – and continues to be – singularly significant. I have tried to emulate his preaching style but must admit my inability to eschew notes.
It is a great blessing to have been mentored by two such effective ministers and to have heard consistently good preaching spanning at least 50 years.
In 2006 I was given the opportunity to preach at McIntosh Presbyterian, where I am currently serving as a commissioned ruling elder (CRE) pastor. This has been the highlight of my Christian experience, and I continue to be so very thankful for the opportunity to minister among such an amazing congregation.
Some history about MPC may be of interest.
MPC was affected by the PCA split in the 1970's and eventually faced possible demise as membership shrank to 13, with active participation of six. I well remember my first Sunday at MPC; six people in worship, and no piano player. So, I preached and played the piano – neither very well I am sure. The order of worship listed the offering after the sermon; I suggested to the six they might want to re-think that!
In another of God's unlikely moves, my best friend from high school, Bert Ayers and his wife, Debbie – who had been Cooperative Baptist Fellowship missionaries to Albania – moved back to Gainesville. Both are extraordinary musicians, so the session at MPC agreed with me that we should ask them to join our ministry. They did, and – without doubt – we have the finest music of any Wee Kirk in the land!
I serve MPC along with Rev. Dr. Ina Boyd, and we have forged a delightful relationship which resonates with our members.
Our blended worship – including traditional hymn as well as a Praise Band and church choir – has been a vital attraction to the 75 folk who have joined MPC during these eight years. Our current membership of 81 include people from at least a dozen denominations, plus a significant group of believers who were not active in any church prior to joining MPC.
Outreach is typically by our members being willing to say "come and see." Our work is to proclaim the love of Jesus – and to leave to God the job of convincing, convicting, and converting. To that end we emphasize missions by using all net rental income from our manse for mission work, including an annual mission trip and scholarships to Camp Montgomery for anyone who wants to attend. We also tithe our total income to Presbytery.
At MPC, folk will find a congregation of Christians who are expectant of the Spirit. We tend to laugh a lot in church – as the Gospel is the very best news possible. So, why not celebrate Jesus every week?
Our motto is "Practicing the Presence of Jesus." Our Faith Statement is "The Grace Equation: We are saved BY Grace, THROUGH faith, FOR good works." Our promise is "At MPC, Grace is our only agenda, and it is never hidden."
Jesus never asked anyone if they were liberal or conservative; evangelical or reformed. He did not try to influence anyone's politics. He occupied that exquisite "straight and narrow" place between condemning and condoning. He never hedged His ministry – never glossed over the destructive effect of un-repented sin, and never tried to curry favor by re-defining sin – but He never turned away anyone who reached for Him with a willing heart. He never asked the question: "How did your life get into such a mess?" He simply said, "I know all about you – and I love you. Leave the past to Me and let's go on from here together. I will not re-define sin, but I will surely forgive it."
We are Jesus-people and our goal is to emulate His example. We often end worship with the "MPC translation" of Jesus' comments about the greatest commandment:
"Love Jesus. Go and live like you mean it."
To have the privilege and responsibility to each week proclaim the Gospel of Christ to the wonderful folk at MPC and to be in ministry with Ina and Bert and Debbie is an amazing blessing. I am indebted to my life-long Presbytery for its sustained support through these eight years.