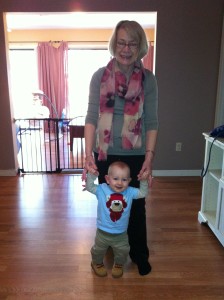 Ruth is a candidate for ministry under the care of the Presbytery of St. Augustine.
My journey began in the post-war period of new opportunities in Great Britain, brought me to Florida in my mid-twenties, and now to Austin, Texas, where I am a senior at Austin Presbyterian Theological Seminary. I was raised as a Methodist in Manchester, England. We attended church and Sunday School every week, and by the age of fourteen, I was a Sunday school helper in my mother's class of 5 – and 6 year-old children. I believe my early experience working with these children, coupled with summer volunteering as a teen in settlement projects for children at risk, was instrumental in my lifelong career in education. When I left home to study at Cambridge University, I drifted away from the church, and did not return until I had children in my thirties. At that time, I became a Unitarian Universalist (UU) after a fellow teacher shared some of the UU curriculum materials with me. For me, all aspects of life have always been about education. I remained a UU for almost 20 years, serving as Director of Religious Education and always active on the Social Concerns Committee.
My career brought me to Gainesville, Florida, where I earned my doctorate in Education, and became director of the Educational Research Center for Child Development at UF. I was able in this and subsequent positions to focus on social justice issues involving children and families, especially the importance of high quality educational services for very young children at risk of educational failure. My last position as an educator, from which I retired, was with USF, where I served as Florida State Leader for Parents as Teachers, a non-profit parent education program for low-income parents. We conducted research on the implementation of this program with migrant farm-worker families in Florida. I was able to continue my developing interest in the needs of undocumented immigrants while in seminary, where I worked with a visitation program with women detainees at the Hutto detention Center near Austin.
I became a Presbyterian about ten years ago when I was working for First Presbyterian Church of Gainesville as their preschool director and, for a time, as Interim Christian Educator. I found that my Christian beliefs were growing deeper and I felt drawn to worship once again in a Christian community. Working with the children with the Godly Play curriculum – a curriculum I believe to be the best, most thorough and child-friendly Bible-based curriculum that I have ever encountered – my interest in studying the Bible was renewed. And so began my journey to seminary. This journey came to fruition when I was listening to a sermon by Rev. Jack Donovan, my current pastor and long-time mentor, about the Holy Spirit. At that moment I felt the Holy Spirit at work in my life and knew that it was time to apply to seminary, thinking that at the age of 59, I might have a difficult time being accepted to study for a Master of Divinity degree. I was surprised to find how warmly welcomed I was at Austin Presbyterian Theological Seminary in Texas. Now, with one more year to complete, I am passionate about getting to grips with Hebrew and Greek, studying the Old and New Testaments and methods of preaching with gifted professors, and the life in community that APTS encourages.
As a part of my program I spent nine months doing Clinical Pastoral Education at Tampa General Hospital, a Level 1 Trauma Hospital, and found my calling to be in chaplaincy with palliative care and with end-of-life issues. My hope is to serve as a hospice chaplain when I have finished my study at APTS. However, I have also surprised myself by my love of sermon-writing and preaching; I will be able to learn more about preaching and being a pastor this coming year as I complete an internship at Hyde Park Presbyterian Church in Austin. And so I remain open to God's call at the end of this coming academic year, whether it be in chaplaincy or church ministry, or a combination of both. God has utterly surprised me by sending me on this incredible faith journey at this point in my life. I consider my years in seminary to be a wonderful gift from God, filled with discovery and joy. In my personal life, God has also gifted me with three wonderful daughters who support my journey wholeheartedly, and a kind and generous husband who sees my faith journey as his also, and who has happily traveled with me from Gainesville to Austin to Tampa, and back soon to Austin again. I can hardly wait to see what God has in store for me in the years to come – I know it will be an adventure and that God's presence will always be close wherever and in whatever role I serve. I am utterly and joyfully blessed.