By: Sandra Hedrick, Stated Clerk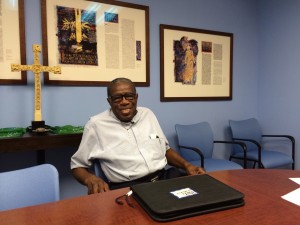 Jesse Perry was baptized on Easter Sunday at St. John's Presbyterian Church in downtown Detroit. Myrna Ann Henderson was in his youth group and was also baptized that day. Jesse and Myrna married a few years later and eventually made their way from Detroit to Alma, Michigan and then to Jacksonville, Florida. "The Lord has been good to me," Jesse says about his ministry, family and many interesting life experiences.
Currently Jesse serves as the parish associate of Woodlawn Presbyterian Church in Jacksonville. In that role, he visits members, works with young people, and preaches occasionally.
Jesse was born in Arkansas and lived on a farm throughout his early childhood. During World War II, his mother went to Detroit to work in a factory making jeep seats. When Jesse was 11 years old, he took his first train ride to go to Detroit to spend some time with his mother. Due to a combination of circumstances, he did not return to live on the farm. He graduated from one of the very best technical high schools in the country and took the auto-aero curriculum.
The next morning after graduation, when Jesse came home from a post-graduation celebration, he found a note from his mother attached to a classified ad for work with the city of Detroit. He started mechanical work with the city that very weekend, and he stayed with the city (in many different jobs – including auto mechanic, land surveyor, construction inspector and maintenance sub-foreman) until he retired 30 years later.
Originally, Jesse had been invited to St. Johns Presbyterian by a teenage friend. They had great fun in the youth group, and one of the ladies at church once told Jesse that he would be a preacher one day! (He didn't believe that when he first heard it!) That congregation continued to be Jesse and Myrna's church home as they raised their family (two daughters). Jesse served as a deacon and elder and was an adult leader of the youth program.
When Jesse retired from his work with the city, he finished college (philosophy/sociology) and was called into seminary education at McCormick Theological Seminary in Chicago. Jesse drove his Ford Fiesta 272 miles each way every week from Detroit to Chicago and stayed at the retreat center across the street from the seminary. Before graduation, he was contacted by Alma College (a PCUSA affiliated college north of Lansing) for work as a chaplain intern. He was ordained at St. Johns on March 24, 1990.
Jesse and Myrna lived in Alma for 19 years while Jesse served as the first African American chaplain of the college. There were many highlights, but the mission trips to Jamaica and several locations in the United States truly stand out for Jesse. In addition to his role as college chaplain, Jesse was also the stated supply pastor for Emerson Presbyterian Church in Breckenridge. He describes Emerson as a wonderful country church on a corner with wheat, corn, and other crops growing across the street.
At Jesse's next retirement in 2009, he and Myrna decided to come to Jacksonville be near family. They began attending Woodlawn, and within a short time, Jesse was asked to be a parish associate. Jesse is active in the life of the Presbytery of St. Augustine, serving as an at-large member of Presbytery Council. His many interests include photography, wood working, electronics, music and travel. His favorite scripture verse is from Psalm 118:24: "This is the day that the Lord has made, let us rejoice and be glad in it!" His favorite book of the Bible is Habakkuk.
Jesse has lots of great stories and is willing to share them! Our two hours together passed quickly and very enjoyably. As a "second career" pastor myself, Jesse's story inspired and reminded me that a great and long adventure lies ahead!
One subject that weaves itself through all of his reminiscences is a love for the children and youth of the church. He also encourages those in ministry to consider how technology can play a positive role in the Christ-focused ministry of the present and future. Jesse's long resume ends with these very hopeful words: "Thanks be to God, and to God be all the glory and honor" and "God has really, really, really smiled on me."