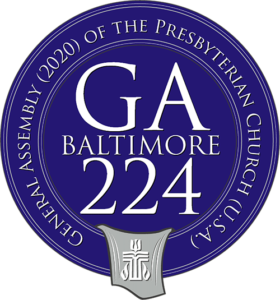 The 224th General Assembly of the PC(USA) will be held in Baltimore, Maryland, from June 20–27, 2020. Our commissioners are ruling elders Bob Bell (First Perry) and Yvette Grant (Nueva Esperanza) and teaching elders Sandra Hedrick (Stated Clerk/Kirkwood) and Joe Medearis (Arlington/Peace). Our young adult advisory delegate is Emma Cottrell (Community).
The deadlines for submitting overtures to the 224th General Assembly are:
February 21, 2020
, if the overture involves an amendment to/interpretation to the Book of Order; April 21 for overtures with financial implications, and May 6 for all other overtures and comments. This means that most kinds of overtures would need to come to our February 1, 2020 presbytery meeting in order to be approved and submitted in time. All presbytery overtures also require at least one concurrence to come before the assembly. For more information about the overture process, please
email
our Stated Clerk, Sandra Hedrick. 
Click here
 to view our written overture submission policy.