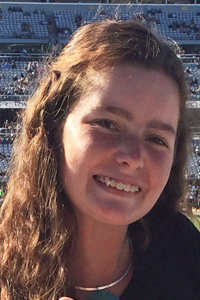 Emma Cottrell
Student at Presbyterian College
Church: Community Presbyterian Church
Interesting Fact: Serves as sisterhood chair of her sorority, Sigma Sigma Sigma (Epsilon Pi), at Presbyterian College.
Bio
Emma Cottrell is approaching the end of her first-year as a Christian Education major at Presbyterian College in Clinton, SC. She has been active in campus groups such as Celtic Cross, which focuses on leadership in the church. Emma is also the sisterhood chair of her sorority, Sigma Sigma Sigma (Epsilon Pi). The sorority is dedicated to serving those in need with a focused commitment on its "Sigma Serves Children" program which includes a variety of efforts for the betterment of children around the world. Tri Sigma's philanthropy supports hospital play therapy programs for children as well.
At her home church back in Atlantic Beach, Emma has been a member of its youth group and the F.I.S.H. Bible Study group. During the summer of 2017, she was a camp counselor at Montgomery Presbyterian Conference Center after assisting as a volunteer in the summer of 2016. She was also a participant for a Presbyterian Disaster Assistance mission trip to Columbia, South Carolina. 
Q & A
What are you hoping to learn at the GA?
I am hoping to learn more about the organizations and programs PCUSA has, how I can get involved, and how we can use them to help and educate our community
How is your first- year at PC going? What are you enjoying most?
My first year has been great!  This semester I declared my major, which is Christian Education.  My favorite thing about PC has been the community aspect.  I am the sisterhood chair of my sorority, Sigma Sigma Sigma (Epsilon Pi), so my job is to organize events for the women in our sorority to get to know each other better and bond through our love for Tri Sigma.
What to you envision for your future?
I am not sure what exactly I would like to do yet, but I am interested in working for a non-profit or lobbyist group like the PCUSA Office of Public Witness.  I would love to be in a position where I could help women and children, especially in advocating for their education in third world countries.