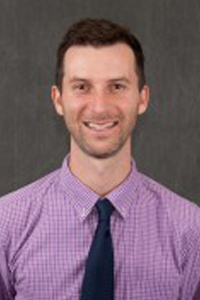 Forrest Foxworth
Director of Youth and Their Families at First Presbyterian Church of Fernandina Beach

Church: First Fernandina

Interesting Fact: Spent part of his childhood in Papua, New Guinea when his parents were missionaries for the Wycliffe Bible Translators.
Bio
Forrest was received as a Candidate for Ministry under the care of the Presbytery of St. Augustine this past November. He is currently attending Gordon-Conwell Theological Seminary in Jacksonville. Since 2010, he has served as Director of Youth and Their Families at First Presbyterian Church of Fernandina Beach.
Forrest and his wife, Ginny, both attended Belhaven University in Jackson, MS where he double-majored in Biblical Studies and Sports Ministry. During college, he interned under Youth Pastor Gregg Parker at First Presbyterian Church of Corinth (MS). Prior to arriving at First Fernandina, he was Youth/CLC Director at First Presbyterian Church of (Tupelo).
Forrest and Ginny reside in Fernandina Beach with their daughter Ruby, and son Lee a.k.a. "Bud."
Q & A
What are you looking forward to the most at the GA?
Honestly, I am looking forward to many things: learning the processes and mechanics of this particular communal discernment, experiencing the intersection of fervent people and the Holy Spirit, and the opportunity to play a part in shaping the direction of our church.  I am also really looking forward to connecting with new people and growing from their wisdom.
What inspired your calling to be a minister?
My parents are both teachers; but they modeled a faith that required action, that interpreted every movement through the lens of God's mission on earth.  Even my earliest career considerations revolved around church work.  I have, for a long time, been focused on the task of organized ministry.  I pursued experiences and educations to help shape and encourage me.  The most recent move towards ordination, then, does not really feel like much of a departure.  It really feels like the natural consequence of a trajectory I began many years ago.  
How did being the son of missionaries and your experiences as a youth in New Guinea help shape who you are today?
As a youth, the move between vastly different cultures was definitely traumatic.  Yet, I think it helped prepare me to be a student of people, to be observant about the way communities interact.  It created an openness to the other.  It encouraged self-reflection.  It pushed me to be patient, to refuse over-generalizations that too quickly discard the good with the bad.