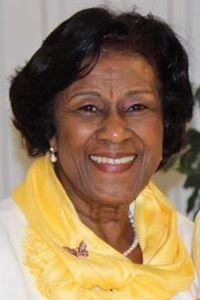 Mary Brown
Elder at Woodlawn Presbyterian Church
Year of Ruling Elder Ordination: 1987
Volunteer Experience within the Presbytery: Member Preparation and Call Commission (Class of 2019); Mutual Mission Team (Class of 2018); Committee on Ministry (2017); Administrative Commission for the Nueva Esperanza Presbyterian Church
Interesting Fact: After retiring in 2006 as the Regional Superintendent of Schools for Duval County, she was named a Florida Times-Union EVE Award Finalist in Education.
Bio
Mary Brown has been a member of Woodlawn Presbyterian Church since 1970 and was ordained as a ruling elder in 1987. She has served in a number of roles at Woodlawn, including clerk of session, chair of the Evangelism Committee and more.
Mary spent 36 years in the education field before retiring in 2006. She started her career as a business education teacher in 1970 and went on to become the Assistant Principal for Student Services at Englewood High School in 1979. From 1983-1985, she was the Vice Principal for Curriculum at the James Weldon Johnson Seventh Grade Center before serving as Vice Principal at Robert Lee High School for one year. In 1986, she was named Vice Principal at Norwood Elementary School and in 1991 she became the Principal at James Weldon Johnson Middle School where she spent the next six years.
In 1998, Mary was named a Regional Director for Duval County Schools and  during that time, she also served as an adjunct professor at Jacksonville University. 
Her career in education culminated in 2003 when she was named the Regional Superintendent for Duval County Public Schools, one of the largest school districts in the country. Upon her retirement in 2006, she was named a Florida Times-Union EVE Finalist in education.
Mary is a member of Alpha Kappa Alpha Sorority, Incorporated (AKA) and its local chapter, Gamma Rho Omega Chapter. An international service organization that was founded on the campus of Howard University in Washington, D.C. in 1908, Alpha Kappa Alpha is the oldest Greek letter organization established by African-American college-educated women.
She holds a bachelor's degree in business education from Edward Waters College and a master's degree in education leadership from the University of North Florida.