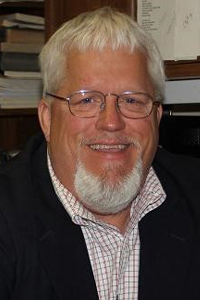 Rev. Dr. David Lee
Pastor at Highlands United
Year of Ordination: 1981
Volunteer Experience within the Presbytery: Coordinating Council (Class of 2020); Reconciliation Team (Class of 2018); Relationship Coordination Committee (Class of 2018); Committee on Ministry (2015-2017); Permanent Judicial Commission (2013-2017); Nominating Committee (2014); Committee on Preparation for Ministry.
Interesting Fact: Is an avid reader and collector of nativity scenes from around the world.
Bio
David has been a member of the Presbytery of St. Augustine since 1996, serving Highlands United Presbyterian Church for the last 21 years and will celebrate his 22nd anniversary there this October. Rev. Lee was the 2016 recipient of the "Parish Pastor of the Year" award from the Academy of Parish Clergy.
Prior to joining the presbytery, he was a member of Salem Presbytery in North Carolina where he served as pastor of Concord Presbyterian Church for ten years. His first pastorate was at the Greenwood Presbyterian Church in Reidsville, NC.
David's service to the Presbytery of St. Augustine beyond his ministry at Highlands United includes terms on several committees including the Coordinating Council, Relationship Coordination Committee, and the Reconciliation Team Past service includes the Permanent Judicial Commission, the Committee on Ministry and many more.
David had the opportunity to represent the Presbytery of St. Augustine as a commissioner at the 214th General Assembly (2002).
His other service work includes being the past president of the Arlington Ministerial Fellowship and serving on the board of trustees for Arlington Community Services. He is also an adviser for the Board of Parole for youth offenders.
David attended Atlantic Christian College (now Barton) and Union Theological Seminary in Virginia, graduating in 1981 with his Doctor of Ministry. He and his wife, Susan, reside in Jacksonville with their standard poodle, Samson.
Q & A
What did you learn from your first experience at the G.A. and how will that experience help you this time around?
G.A. is an intensive week of worship, study, fellowship and decision making that's like the local church in hyper-drive. Vitally important and seemingly mundane deliberations lead to decisions which may affect life in the greater church. It's a wonderful opportunity to see our church function and an intensive and courageous level which quite consciously seeking the guidance of the Holy Spirit.
What is your biggest concern regarding the PC U.S.A. going forward?
Unity. Not just on the biggest issues facing us, but on others that threaten the fiber of our life as Presbyterians. We are in need of a plan going forward that is based on the heart of our faith. The love of Christ for  all of us. It's a love that understand we may be different, but different should not be a value judgment. We will always have differences. But that which we hold sacrosanct should provide for us the motivation to be one in spite of differences.    
What do you enjoy most about your ministry at Highlands United?
Highlands is a great congregation. It would be impossible to say what I enjoy "the most." I love the diligence with which the people go about the task of being the church. People are engaged in all aspects of ministry with an exciting fervor for mission. I've been at Highlands a long time which has afforded me the opportunity to hold a child being baptized and then watch that child being nurtured by people who embrace and understand the vows they make as parents and church. Then to see them work together to instill faith in each child as they live and grow into faithful youth and young adults, who, in turn take their own part for the next generation.