Rev. Paige Porter-Buhl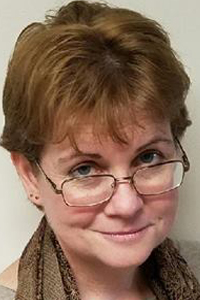 Stated Supply Pastor at Covenant Presbyterian Church
Year of Ordination: 1993

Volunteer Experience within the Presbytery: Communications Team (Class of 2018); Relationship Coordination Committee (Class of 2018); Disaster Preparation and Assistance Team; Design & Discernment Team (2016).
Interesting Fact: Created the first-ever website for the Presbytery of St. Augustine.

Bio
Paige is currently in her third year serving as a stated supply pastor at Covenant Presbyterian Church in Gainesville. Prior to that she served as a parish associate at Westminster Presbyterian Church from 2006 to 2013.
Ordained in 1993 by the Lake Erie Presbytery in Pennsylvania, she served as an associate pastor at the Fairview (PA) and Girard (PA) Presbyterian Churches.
In addition to her ministry, Paige has also worked for many years as a software developer and is an accomplished musician. She has volunteered at many community organizations over the years including Family Promise, Acorn Clinic, St. Francis House, Ronald McDonald House, and Gainesville Community Ministries.
She attended Princeton Theological Seminary and earned a bachelor's degree in English literature from Eastern University in Pennsylvania. She resides in Gainesville with her husband Alfred. They have two children, Lyndal and Will.
Q &A
What are you looking forward to the most at the GA?
Experiencing being a part of a larger community and contributing to the decision-making process.
What do you enjoy most about your ministry at Covenant?
I am honored to serve such a kind-hearted, mission-focused and welcoming community.
Tell us a little bit about your journey as a software developer?
How I fell into software development is a bit of a long story full of moments of grace and surprise twists. I feel blessed to have two fulfilling, meaningful and fun career paths.