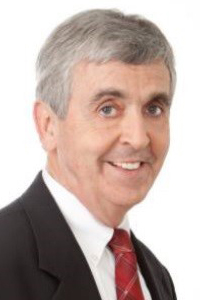 Ed Kelly
Ruling Elder at First Green Cove Springs
Year of Ruling Elder Ordination: 1977

Volunteer Experience within the Presbytery: Assistant Stated Clerk; Presbytery Transition Team (2014-2016); Board of Trustees (2003-2009); Presbytery Moderator (1995-1996); Committee on Institutional Support (1989-1991); Coordinating Council (1990-1991, 1996-1997); Sexual Misconduct Task Force (1997-2002); Crisis Response Team (2010-2017).
Interesting Fact: Recipient of the Lifetime Achievement Award from Challenge Enterprises of North Florida in 2014, where he has served on its board of directors for the past 27 years.
Bio
A lifelong Presbyterian, Ed has been a member of First Presbyterian Church of Green Cove Springs since 2009. He has served on the session and has been clerk of session there since 2015. Beginning this past fall, he became the assistant stated clerk, a voluntary position, for the presbytery.
He was a member of Orange Park Presbyterian Church from 1974 to 2009 and served nine terms as clerk of session in addition to six terms on the session. Ordained as an elder in 1977, he also chaired numerous session committees at Orange Park and was an Adult Sunday School teacher from 1997 to 2002.
Ed's service to the presbytery extends further to the Synod of the South Atlantic for which he served one partial two year term as vice moderator (2008-2009) and one full six-year term as moderator of the Synod Permanent Judicial Commission.
His other volunteer work includes eight years on the Board of Trustees at Columbia Theological Seminary; 16 years on the State Board of Directors for the Children's Home Society of Florida; 27 years and counting (including five years and counting as vice chair) on the Board of Directors for Challenge Enterprises of North Florida; and six years on the Board of Directors for the Hubbard House. He has also volunteered for several other organizations, including the American Lung Association of Florida, Girl Scouts of America and Quigley House, and many more.
Ed is a shareholder with Roger Towers in Jacksonville, FL. His practice includes a number of areas of banking law, including commercial lending (mortgage lending and asset based lending), Uniform Commercial Code issues (including secured transactions), letters of credit and general banking operational issues.
He received a Juris Doctor degree from the University of Florida's School of Law and a bachelor's degree from the University of Florida. He and his wife, Linda, reside in Orange Park.