by: Cynthia Montgomery (Moderator) and Sandra Hedrick (Stated Clerk)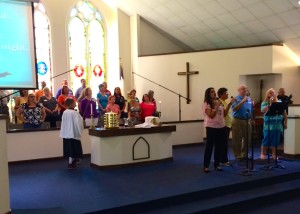 Joy filled the sanctuary at Kirkwood Presbyterian Church on Sunday, June 7, 2015, as the congregation gave thanks to God for 21 years of ministry at its Argyle Forest Boulevard property in Jacksonville. Why celebrate at 21 rather than 20? "Because 21 is a big year in our culture!" explained the Rev. Amy Hunt in her morning message.
The congregation celebrated in a big way, joined by the congregation of Iglesia Presbiteriana Nueva Esperanza and Kirkwood's charter members, past members, former ministers (by video feed), and many guests. The choir, the youth praise team, and the students who take complimentary guitar lessons at the church led the congregation in energetic musical praise.
The morning message based on Mark 10:35-45 challenged the congregation and all in attendance not to compare ourselves to others. The congregation is serving God in the way that it is being called in this place and time, and no good comes from comparing itself to other churches. "It doesn't matter where you sit, you just have to be in the presence of God." Following the message, the gathered community was renewed at the Lord's Table and strengthened in its commitment to love and serve God and neighbor.
One of the highlights of the celebration was a "home video" that was made in 1994 on a day that volunteers from the congregation were laying sod outside the newly constructed sanctuary. Another was Pastor Amy's children's message which included her demonstration of how to relax over the summer by sitting in a rubber boat brought into the sanctuary.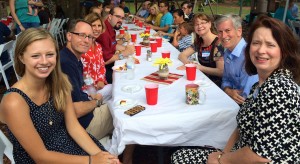 After worship, everyone enjoyed dinner on the grounds provided by the Presbyterian Women – barbecue, hamburgers and hot dogs with all the trimmings, side dishes and a special cake. The sunny weather remained cool enough to linger at the table for conversation as the children enjoyed the "bounce house" nearby. Bluegrass music 
It was our special pleasure to share this celebration with the congregations that worship in this space (Kirkwood and Nueva Esperanza) and to be inspired by the worship, witness and service they share with the community around them.followed in the sanctuary, and the party didn't wind down until the mid-afternoon!